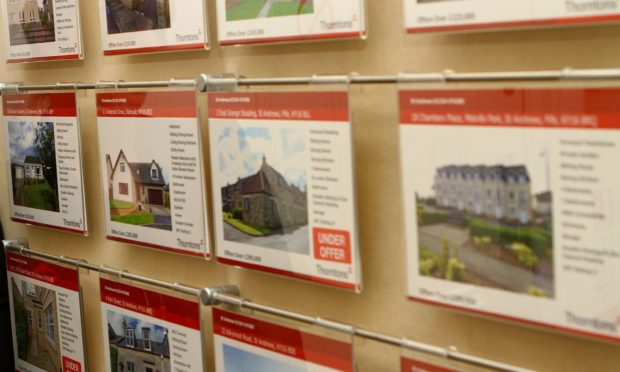 Estate agents have revealed the areas of Tayside and Fife where the property market has suddenly become so hot that homes are selling for prices far exceeding their asking prices.
Pent up demand has up pushed prices in Courier Country with some homes selling for £40,000 more than valuation.
Despite fears of an economic downturn, buyers have not hesitated to put in high bids.
Estate agents were able to officially reopen at the end of June and local property experts have stated they have never seen demand for homes so high.
Thorntons said its average sale price has been 4.8% higher than the home report value while in some areas offers have been more than 10% above valuation.
Peter Ryder, managing director of property services at Thorntons, said: "Not only are properties selling for higher prices but they are also selling fast.
"We have sold properties within a week in Dundee, Broughty Ferry, Tayport, Gauldry, Monifieth, Carnoustie, Elie, St Andrews, Cupar and Montrose.
"This includes properties we have sold in just one day in Dundee, St Andrews and Cupar."
Mr Ryder said Thorntons had already sold a third of properties placed on the market since estate agents could reopen on June 29. A quarter of homes sold within a week.
Jim Parker of Fife Properties said the number of properties sold had doubled compared with last year.
He said: "In Fife the majority of properties are selling in record times often over the home report value and before they get to market.
"In St Andrews and the East Neuk some properties are going for £20,000, £30,000 and even £40,000 more than the home report value."
Blackadders said its average house was selling for around 5% over valuation with many going for well in excess of this.
Partner in residential conveyancing Joanne Grimmond said: "The huge shift in gear is a mix of the high number of buyers who have been pent up waiting to move while there has also been a significant number of buyers wanting to re-locate to Scotland.
"The Government's tax holiday which has increased the threshold of tax to pay has been a further contributory factor.
"For those who have been considering a move during lockdown, particularly people looking to downsize, this is the time to put their property on the market.
"While we can't foretell the future, it is unlikely that the market will sustain this spike in the longer term."
In Perth, Premier Properties director Katie Hall also confirmed a jump in activity that shows no sign of slowing.
She said: "Since restrictions eased, this release of pent-up demand has caused a surge in activity, which at the moment, shows no signs of slowing.
"Since the market reopened in Scotland, we have experienced a 93% increase in new instructions and a 72% increase in properties sold to date compared to last year.
"Prices are also holding up, with some properties achieving prices well over home report value".
Head of the Dundee office of RSB Lindsays Chris Todd said the firm saw a 142% year-on-year increase in the number of offers accepted on properties last month.
Mr Todd said lockdown had caused a "bottleneck of demand".
"I think there was a feeling before lockdown that what we would see was more of a pause in the market rather than a dip," he said.
"The months of lower activity has created a bottleneck of demand, and the flurry of enquiries, viewings and sales we are seeing across Dundee and Tayside is the realisation of that.
"New properties to the market are selling quickly, with those which have been on the market for longer selling well too.
"We obviously don't know what the future holds in terms of the wider economy, but we believe that Dundee is a resilient and vibrant market."
Lindsay Darroch, who heads the Dundee office of Aberdein Considine, said more of his firm's properties went to a closing date last month as the whole of 2019.
"I thought we were going to be in for a quick sharp burst of activity and the market would burn itself out but it's really kept going," he said.
"I think people have spent a long time in their current home and decided it's time to move on –for a home with a bigger garden in some cases.
"Some of the prices achieved in the likes of Broughty Ferry have been astonishing."
But Mr Darroch warned that he didn't expect the property boom to last beyond the short term and called for planners to support local developers.
"My plea is for the Scottish Government and local authority to really support local developers with either funding schemes to help first time buyers and for the local government to really help with planning," he added.
"This is the time that we need the developers to be supported to get quick, clear decisions and get planning through."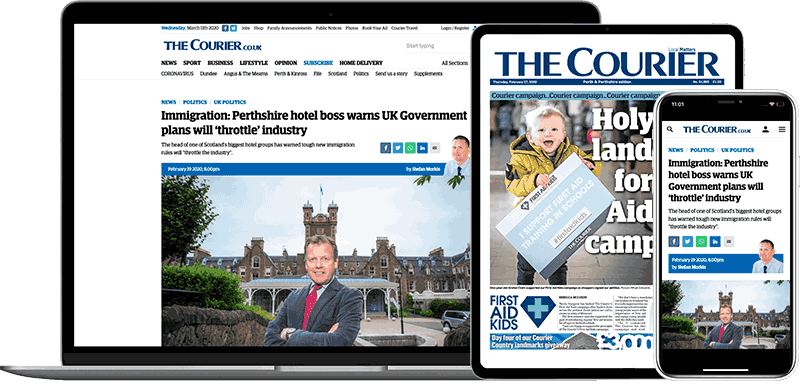 Help support quality local journalism … become a digital subscriber to The Courier
For as little as £5.99 a month you can access all of our content, including Premium articles.
/**/