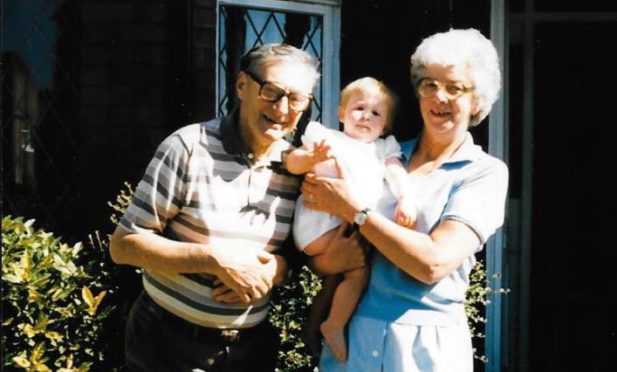 A Tayside pensioner has left her step family "devastated" after she cut them out of her will and bequeathed her entire £600,000 estate to charity.
Joyce Greenwood, who died aged 93 last year, drew up a "secret" will that prevented her two step daughters from inheriting what they regard as their late father's savings and home in Perthshire.
Anne Aitken said she suffered nightmares after the bombshell news from her stepmother's solicitors. She said she had not been aware of any family rift, and was baffled why her stepmother had chosen to support a health charity that appears to have no connection to her or the rest of the family.
Anne is now calling for a change in law to give increased rights to stepchildren in inheritance matters.
Experts say "sideways disinheritance" is a growing issue in Scotland, as more and more people get remarried.
"We've been told there is nothing we can do," said Anne. "As stepchildren, we are not allowed to challenge a will, although adopted children can. We were told we were not family, even though I lived with my stepmother since I was 10."
Anne was just six years old when her mother was killed in a road crash in Aberdeen. Her father Joel Greenwood, who was chief catering manager at Aberdeen University, married Joyce four years later.
About 20 years ago, the couple moved out of the family home at Stonehaven – overlooking the harbour – and into a more modest property in Beechtree Place, Auchterarder.
Mr Greenwood, who was a local church elder, died of a stroke in 2006. Anne said he left his estate to his wife, believing that on her death "she would do the right thing" and pass on the estate to his children.
After his death, Mrs Greenwood drew up a will to bequeath most of the estate to her two stepdaughters, with a small amount going to charity.
However, unknown to the family, Mrs Greenwood changed her will by post in 2016, with a nurse as a witness.
The majority of the £600,000 will go to Alzheimer's Society and Macular Degeneration, with a small – previously agreed – portion going to the Arthritis and Stroke Association.
Anne, a 66-year-old psychotherapist from Southport, spoke of her "shock and horror" at finding out the will had been changed. "She did it without telling anyone," she said. "So it came as a complete surprise.
"I was just stunned. I couldn't believe what had happened. I was having nightmares about it."
She said: "My stepmother never worked, so the estate was all of my father's hard-earned money."
Asking if there had been a falling out in the family, Anne said: "Not that we were aware of. She was sometimes difficult, but we always tried to appease her for my father's sake."
She said the estate had gone to a charity supporting people with Alzheimer's. "It's strange because it is something that my father and Joyce never had any connection with.
"We didn't know anyone who had Alzheimers. I remember Joyce telling me on the phone one time that she knew someone whose husband worked for the charity. I'm not accusing anyone of anything by saying that, but that's the only time she mentioned this charity to me."
The heartache of sideways disinheritance
Alan Roughead, a partner at leading Perthshire law firm Macnabs, commented that this was an example of what is often known as "sideways disinheritance", where children can lose out due to their step-parent changing his or her will.
"This case underlines the importance of taking expert advice when wills are prepared, particularly couples preparing wills together," he said.
"While recent inheritance tax changes have sought to treat children and stepchildren similarly for inheritance tax purposes, stepchildren fundamentally still have no legal right to inherit under Scottish law from a step-parent's estate – even if the step-parent has previously inherited everything from the step-child's biological parent on the first death.
"Trust structures are commonly used in wills to remove the possibility of a 'sideways disinheritance' and this is something I am increasingly asked to advise on, as non-typical family structures become more commonplace."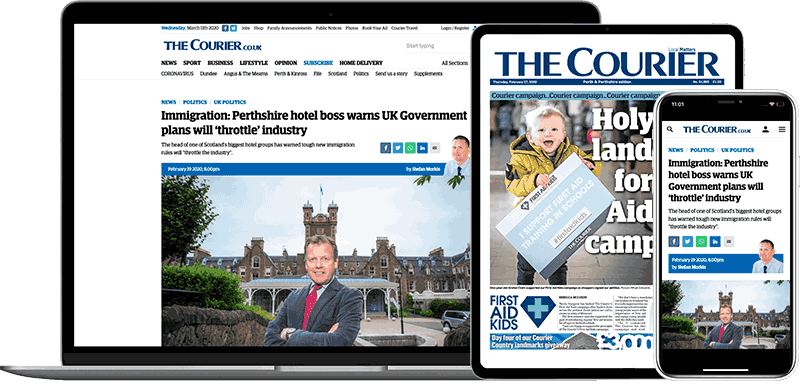 Help support quality local journalism … become a digital subscriber to The Courier
For as little as £5.99 a month you can access all of our content, including Premium articles.
.dct-cta–subscribe { background-color: #143c70; } .dct-cta–subscribe .dct-cta__title { color: #ffffff; } .dct-cta–subscribe .dct-cta__content p { color: #ffffff; } .dct-cta–subscribe .dct-cta__btn { background-color: #005a9e; color: #ffffff; } .dct-cta–subscribe .dct-cta__btn:hover, .dct-cta–subscribe .dct-cta__btn:focus, .dct-cta–subscribe .dct-cta__btn:active { background-color: #ffffff; color: #005a9e; }