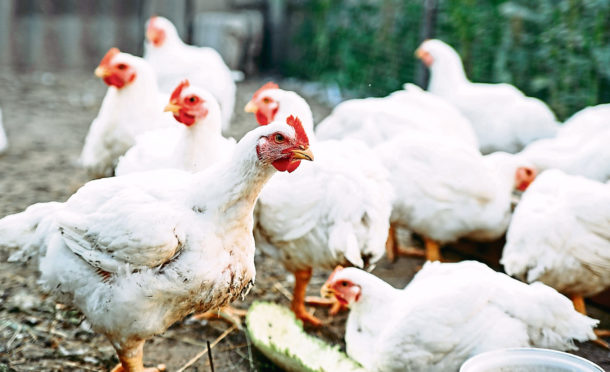 Villagers have set up a new campaign group to fight a proposal for a major poultry farm which could house up to 26,000 chickens in Perthshire.
The Murthly Group has launched a petition to stop Aviagen Ltd from building four sheds and a site manager's house on agricultural land on the outskirts of the village.
Campaigners are also calling on the Scottish Government to impose a six month moratorium on the approval of any planning applications for new or expanded industrial poultry units.
Plans lodged for Murthly poultry farm which could house 26,000 birds
Murthly Group point to a number of concerns, including the recent Covid-19 outbreak at the 2 Sisters chicken factory in Coupar Angus, the environmental impact, the smell and the close proximity to a primary school.
A spokesperson for the group said: "We do not welcome industrial operations that require bio-security on our doorstep.
"This is not just about Murthly, it's about all of Scotland and the rest of the UK.
"Scotland contains one of the last remaining wildernesses in Europe. If we don't protect it, who will?"
Members say they are concerned after the local authority granted permission for two other chicken farms in Pethshire in recent years against the wishes of nearby residents.
In March last year, protesters took to the streets in anger after Perth and Kinross Council signed off on an egg farm housing 32,000 hens on the edge of Ardler.
Angry residents accused the local authority of not caring about locals' health.
"We don't want 32,000 cluckin' chickens": Furious protesters take to Perth streets as egg farm signed off by council
In 2016, controversial plans to build a £6 million pedigree chicken farm at Bankfoot were approved by Perth and Kinross Council despite a backlash from people living close to the site.
Among the opponents was Sir David Carter, who was the Queen's surgeon in Scotland and regularly advised the government on public health issues.
He said the chicken farm could put residents at risk from serious lung conditions.
Aviagen say their new venture will bring 11 full-time jobs to the area and will be a pedigree breeding farm rather than producing poultry for broiler meat.
An Aviagen spokesperson said: "We would like to reassure the Murthly community that this development is a small farm when compared with typical broiler poultry production facilities.
"The poultry buildings will be state of the art, energy efficient poultry houses designed for the purpose of rearing breeding birds, maximising their welfare and health and at the same time minimising the impact on the environment.
"The new farm will employ 11 full-time staff and a resident, full-time farm manager.
"In addition to these jobs, work will be created in the local supply chain by using a local construction firm and associated suppliers within the agricultural sector."
Murthly Group's petition can be viewed at www.petitiononline.uk/murthly_villagers_oppose_proposed_specialist_poultry_breeder_farm_and_demand_moratorium_on_planning_applications_for_new_or_expanded_industrial_poultry_units_in_scotland