After four weeks in a hotel in Canterbury, my family and I were relocated to Perth in Scotland last week, with just three days' notice. It's not where we wanted to live in the UK but we had no other option – we needed to settle, and at least it is away from the dangers of Afghanistan.
My brother is still out there as an officer in the former Afghan army and was badly injured after being shot by the Taliban three weeks ago. He is OK now, but we are worried for him and our other family and friends who are still out there. We want to help them evacuate too.
My wife Lida, our three sons and I have been in Perth for a week now and have been given a three-bedroom flat in a very commercial area in a downtown part of the city. We are happy and grateful to have a home but we don't have much space and can't keep our bikes here. We hoped to be near to parks and professional areas. Instead we are in a noisy part of town with bars and nightclubs playing music until 4am – we are struggling to sleep.
Moving to Scotland from Canterbury feels like a big move and at the moment we are feeling a combination of hesitation and hope. Perth is a beautiful city and apart from the first day of rain, it's been lovely and sunny since we arrived. There are a lot of nice people here and several have reached out offering to meet us for coffee, but we are still settling in and it's frustrating to be so far from the place where we had so much opportunity.
After details of our situation ran in the Evening Standard two weeks ago we had hundreds of messages of support in Canterbury, from local families inviting us for tea to a karate club offering free classes for my sons. Good friends in London reached out, wanting to come and visit. Now, we are too far away. We don't have those opportunities any more. We are having to start from scratch.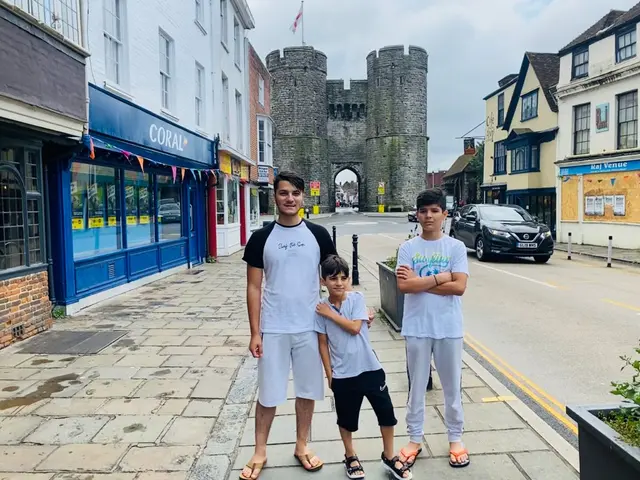 We are receiving pocket money from the government now but we still need uniforms and computers for my sons, who have just started school. We also need WiFi and other appliances for the house, but these are small things. Employment is our biggest worry – I don't know if I'm going to be able to get a decent job here, which is frustrating because I'm a qualified person. I've worked my whole life and I have so much to offer this country.
I have a masters from the US in international trade and have always had a professional career, including jobs in law, at the British Embassy in Kabul and most recently as CEO of the Afghanistan Chamber of Commerce and Investment. But the government are treating me in the same way as those without qualifications and who don't speak English. There is such a big difference between refugees, so why are they treating us all equally? I don't want to be a charity case or a free-rider. I want to work. I don't need fish – I need them to teach me fishing.
This week a lady from the council told me they were hiring community officers and translators to help local refugees and I told her I would be perfect for that job. She said she'd speak to her manager. I'm still waiting to hear – I feel helpless.
In the meantime I'm trying to explore other options, like getting another degree from Dundee University to boost my qualifications – maybe in another area of law or something in computer science, which seems to be very popular nowadays.
Another reason the government's relocation process has been frustrating is that it doesn't feel like we've been well-matched with our new homes. Other families from our hotel in Canterbury without professional qualifications or good English have stayed in Canterbury or been moved to big cities like Birmingham and Manchester. They would have done well in Perth, whereas there aren't many professional jobs here for me. I explained this to the Home Office but they moved us anyway. Why don't they care?
My sons – aged eight, 14 and 17 – are less depressed than they were when we first arrived in the UK and had to live under strict hotel rules. They were nervous about starting school up here – were they going to be able to catch up? Would they make friends? Lida and I were nervous, too – we were so worried about them missing time and opportunities in education when we had to flee Kabul.
The boys started school this week and they're only two days in but so far people have been friendly and welcoming. Our youngest, who didn't speak English before coming here, is now starting to pick up on words and saying sentences in English, though the Scottish accent can be difficult to understand – for all of us.
Life in the UK so far has been a rollercoaster. We are happy to be safe but we don't want to be a liability to this country. All five of us can add value to this country. I want to work and I am ready. All I'm asking for is an opportunity.
Sayed Hashemi, 42, is the former CEO for the Afghanistan Chamber of Commerce and Investment. He was one of the top mining and commercial lawyers in Afghanistan until he and his family had to flee Kabul last month.