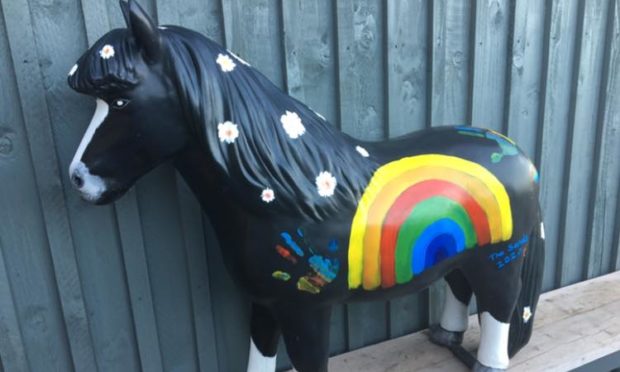 A family have been left "absolutely devastated" after thieves stole a life-sized Shetland pony statue which was a centrepiece of their wedding from outside their Carse of Gowrie home.
Tessa Sands discovered the rainbow-coloured horse named Daisy had been lifted from their driveway on the road between St Madoes and Errol early on Tuesday morning.
The mum has been told by neighbours that the pony model has been missing from its spot since around 5pm on Monday.
Daisy was present at Tessa and her husband Michael's wedding where it was signed by all of their guests. During lockdown the family and their son Fergus added their handprints as a mementoe.
Tessa hopes the thieves will return Daisy or a member of the community will spot the distinctive statue.
She said she couldn't understand why anyone would take it.
"It's not worth very much, maybe £300 -£400 but it's of huge sentimental value to us," she said.
"Hopefully someone feels guilty and puts it back in my garden."
Daisy has had pride of place at the bottom of the family driveway for around six months and Tessa says local residents loved the quirky addition to the community.
"We put it out at the end of March, at the start of lockdown," said Tessa.
"People take their kids over and have photos with it.
"It has become a bit of a local landmark."
She is also bemused about how the thieves managed to remove the statue.
Tessa said: "You would probably need a van. It's not small and it's sturdy. I can't lift it.
"I can sit on it and it holds my weight. It's a life-sized Shetland pony.
"It's so bizarre. They can't just put in in their front garden."
Tessa has put out a #BringDaisyHome appeal which she hopes will lead to the pony's return.
She said: "She is part of our family, she is irreplaceable to us, she attended our wedding and now put smiles on passing people's faces."
A spokesperson for the force said: "Police Scotland is carrying out enquiries after a Shetland pony statute was stolen from Chapelhill sometime between 6pm on Monday September 28 and 7.45am on Tuesday September 29.
"Anyone who knows who is responsible should call officers on 101, quoting 0809 of 29 September."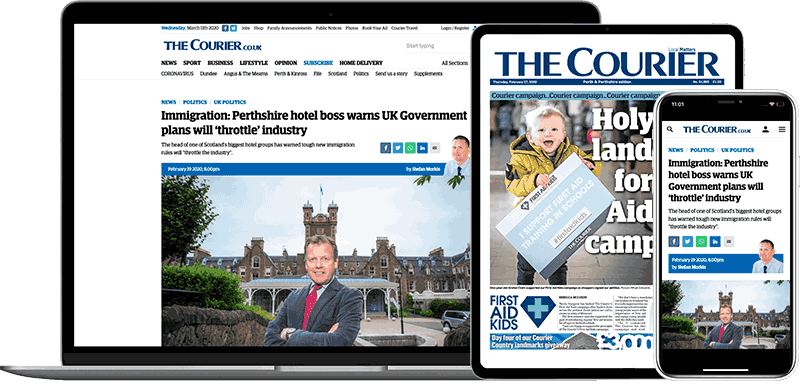 Help support quality local journalism … become a digital subscriber to The Courier
For as little as £5.99 a month you can access all of our content, including Premium articles.
.dct-cta–subscribe { background-color: #143c70; } .dct-cta–subscribe .dct-cta__title { color: #ffffff; } .dct-cta–subscribe .dct-cta__content p { color: #ffffff; } .dct-cta–subscribe .dct-cta__btn { background-color: #005a9e; color: #ffffff; } .dct-cta–subscribe .dct-cta__btn:hover, .dct-cta–subscribe .dct-cta__btn:focus, .dct-cta–subscribe .dct-cta__btn:active { background-color: #ffffff; color: #005a9e; }