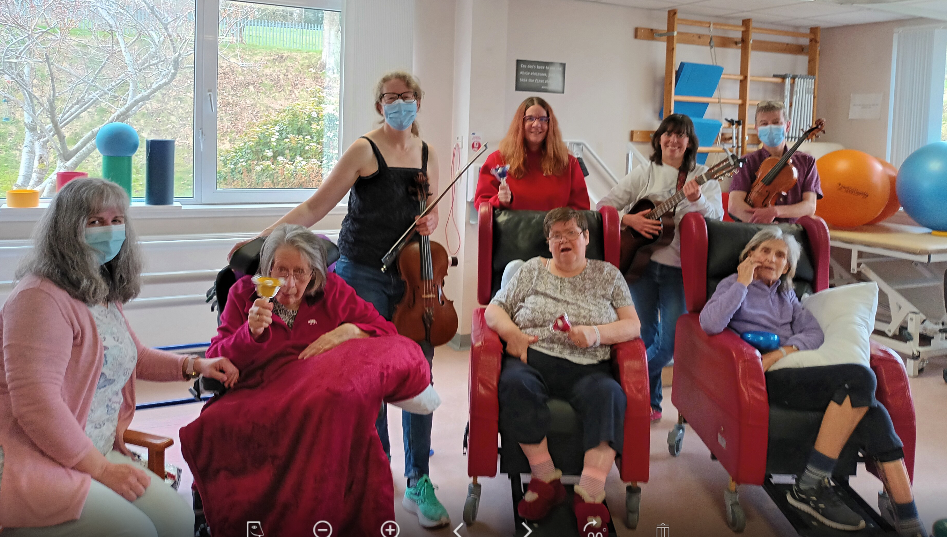 Translate into Polish or Ukrainian
A special celebration took place at Perth Royal Infirmary (PRI) last weekend to mark the finale of a music participation programme involving patients from the hospital's stroke unit.
Patients who took part in the ST/ART engagement project from the Taymouth Terrace hospital's stroke rehabilitation unit played a number of improvised pieces for staff, family and fellow patients over the weekend of 8 and 9 of April.
The performance was made possible through patients engaging in weeks of practice under the expert tutelage of Katherine Wren, a professional musician and full-time member of the Royal Scottish National Orchestra (RSNO).
Katherine worked with inpatients every Saturday morning for a total of two months making musical compositions suited to everyone's abilities and interests using a combination of traditional instruments and percussion along with backing tracks.
All the sessions were run by Katherine with support and musical assistance from the stroke unit's activities worker, Willow Findlay.
ST/ART project co-ordinator Chris Kelly commented: "This is the first time we have brought music to the stroke unit at PRI.
"Introducing music making for an inpatient setting has shown us just how valuable it can be and it is part of our development work.
"The weekend group sessions helped build peer support in the unit and the participants got to know each other better.
"The sheer pleasure of making music along with the concentration and satisfaction that comes from playing together contributes to their rehabilitation and it is good for their health and wellbeing."
Katherine remarked: "This is the second inpatient music programme I have developed for ST/ART stroke participants and I have really enjoyed working with people so early in their recovery journey.
"We build people's confidence and allow them to influence the direction of the work over the weeks.
"Everyone has been so enthusiastic and contributed so much. It has been a very happy and enjoyable programme."
Activities worker Willow Findlay added: "I have been doing some individual work with music listening and playing music in the unit, but having Katherine and dedicated group time has taken everything so much further.
"It's always a challenge recruiting patients to get involved, but once they come along and hear the music, they very quickly want to be involved.
"Even the simplest contribution of ringing a bell allows them to be part of the overall music and it's great. We also had participants on keyboards and drums and various other instruments and with Katherine's wonderful viola playing we created some beautiful music.
"The music programme has helped each individual differently and we have seen real development in their ability and concentration.
"Sharing some of that pleasure with family and friends has been a great finale to the programme. I'm looking forward to more programmes."