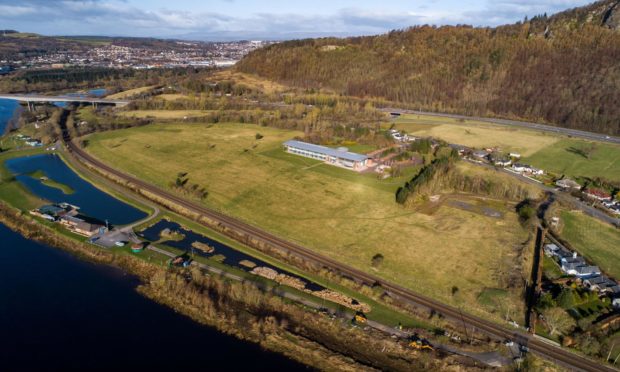 One of Perthshire's biggest developers have unveiled proposals for a £33.8m leisure park on the edge of Perth, set to include a hotel, lodges and a museum.
The huge development, which would be a stone's throw from the Friarton Bridge, is being proposed by plant machinery firm Morris Leslie who are headquartered on-site at West Kinfauns.
Earmarked to be a park and ride site on the eastern edge of Perth, Morris Leslie believe West Kinfauns is capable of supporting a variety of leisure and tourism functions and they aim to include a four star hotel and lodge-style cabins.
Morris Leslie say that 170 jobs would be created, plus construction roles, and 80,000 more visitors would be drawn to the area annually.
The company, who also host classic car auctions, are planning to open a museum that will tell the story of transport and vehicles over the last century, with a focus on the impact of those from Scotland on this and more specifically the local area.
Bosses hope it will showcase how vehicles have evolved and the impact of Scots on this sector, including David Buick, founder of Buick, William Davidson, the co-founder of Harley Davidson, and Preston Watson from Dundee who it is claimed had the first powered flight at Errol, some ten months before the Wright brothers.
It is also the company's intention to exhibit feature displays which will change twice annually, with planners considering displays on Grand Prix and racing cars driven by Scots like Jim Clark, Jackie Stewart and Dario Franchitti, the story of Stagecoach, or famous Scots on two wheels.
Developers say West Kinfauns can be a key entrance into Perth through great connections with the city centre, including active travel routes.
By making the site a premium destination, the leisure hub will draw tourists to the area from far and wide.
Tourists will be able to stay at a four star hotel with between 120 and 150 guestrooms over four storeys, potentially with spa style facilities. Morris Leslie are aiming for a currently unnamed "internationally recognised brand" to take on the hotel which will have expansive views across the River Tay.
Cabin accommodation will be provided for longer stays for larger groups and retail space will also be constructed.
Blueprints for a 240-space car park and bus stop at Kinfauns was first mooted in 2015 and greenlighted in 2016 but ground is yet to be broken.
Morris Leslie, who employ 300 people over 14 sites around the UK, intend to incorporate this facility into the development, if progressed by the council.
A proposal of application notice has been submitted to Perth and Kinross Council, noting the intent of Morris Leslie to submit a planning application following a minimum 12-week period of consultation.
Neighbours will be able to quiz the aspiring developers at a digital community consultation event on March 16 between 3pm and 7pm.
Company chairman Morris Leslie said: "This exciting £33.8 million development provides the perfect opportunity to maximise the potential of the location and draw tourism to the area on a local and national basis.
"Well-connected to the surrounding road network, including the A90, this premium destination will provide a gateway to Perth, to the surrounding area and beyond.
"The proposed scheme is of a scale that can support additional development and is ideally placed in terms of transport connection. It is also in a beautiful location with wonderful views."
Council chiefs and tourism bodies have hailed the investment and are hotly anticipating more detailed drawings.
Council leader Murray Lyle said: "This leisure-led development has the potential to make an exciting contribution to the local economy.
"These plans, although at an early stage, are a significant vote of confidence in Perth and Kinross and our ambitious plans for the area, which include the redevelopment of Perth City Hall to house the Stone of Destiny and the creation of the Cross Tay Link Road."
VisitScotland regional leadership director Caroline Warburton added: "This is an incredibly appealing prospect for Perthshire and for Scotland as a whole, drawing tourists to the marvellous attractions in the area and creating much-needed jobs.
"The delivery of another four-star hotel is particularly exciting.
"This has the potential to support and bolster the leisure-stay market in Perth, acting as a hub for longer stay tourism as well as a base for day trips.
"We look forward to following these proposals."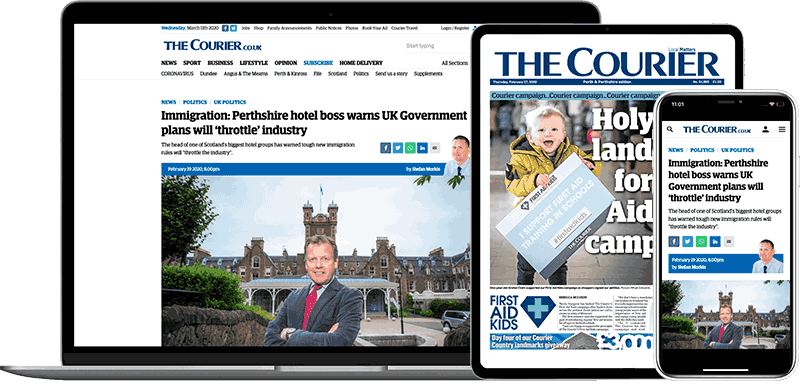 Help support quality local journalism … become a digital subscriber to The Courier
For as little as £5.99 a month you can access all of our content, including Premium articles.
.dct-cta–subscribe { background-color: #143c70; } .dct-cta–subscribe .dct-cta__title { color: #ffffff; } .dct-cta–subscribe .dct-cta__content p { color: #ffffff; } .dct-cta–subscribe .dct-cta__btn { background-color: #005a9e; color: #ffffff; } .dct-cta–subscribe .dct-cta__btn:hover, .dct-cta–subscribe .dct-cta__btn:focus, .dct-cta–subscribe .dct-cta__btn:active { background-color: #ffffff; color: #005a9e; }