Two dogs that were stolen from outside their home in rural Perthshire have been reunited with their owner.
The Jack Russells were snatched from kennels last week, sparking a UK-wide police investigation.
The pair were later found wandering around parts of the English Midlands, nearly 400 miles from home.
A third Jack Russell Terrier was found after a community search on Sunday afternoon. It was traced in the Dodford area, about a mile from Bromsgrove where the first dog was found.
A springer spaniel remains missing.
Gamekeeper Craig Brown said he was delighted to have his two terriers back, safe and well.
"They might be seen as working dogs, but to us they are part of the family," he said.
"I never saw what happened to them. I had been working on the estate and came back to find the kennels empty.
"It was just shocking, unthinkable. We'd never imagined anything like this could happen here."
Mr Brown, who asked to keep the names of the dogs private in case he was targeted again, said: "Both of them are absolutely fine, I'm pleased to say.
"The first one wasn't away for 24 hours when he was found in a park and taken to a vets in Bromsgrove.
"He was really well looked after there. They sent me a video of him wagging his tail, it was such a relief to see."
Mr Brown said the second terrier was found wandering the streets of Hanbury, about 11 miles away from Bromsgrove.
"It appears that the stolen dogs has become a huge news story down there, so the woman who spotted him immediately knew who he was."
All of the stolen dogs were micro-chipped.
A friend of the Browns who was in the area volunteered to drive the dogs home on Friday night.
Mr Brown added: "We're so relieved to have them back, but we are still waiting for news of our springer.
"I really hope she's okay."
Sightings of Jack Russell terrier Harvey, who was stolen from outside a house in Meikleour, sparked a major community search over the weekend.
The Missing Pets, Perth and Kinross group, which has been coordinating searches for the two remaining dogs, confirmed at 5pm he had been traced.
A spokeswoman said he had appeared nervous of people who tried to approach him, and there was concern he might try to run away from the search party.
Last week, a man was arrested in connection with the thefts but he was released from custody, pending further enquiries.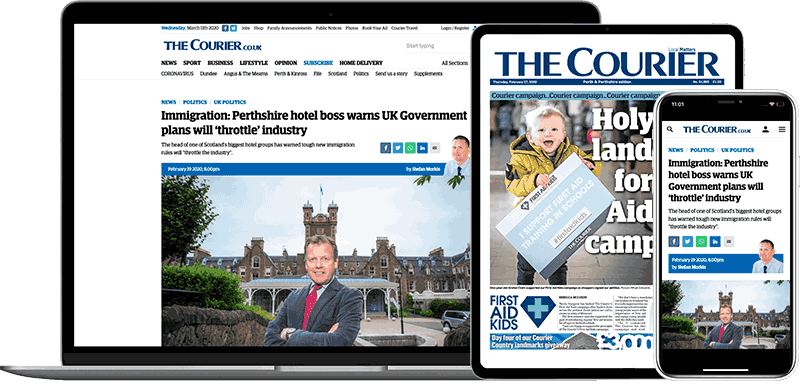 Help support quality local journalism … become a digital subscriber to The Courier
For as little as £5.99 a month you can access all of our content, including Premium articles.
.dct-cta–subscribe { background-color: #143c70; } .dct-cta–subscribe .dct-cta__title { color: #ffffff; } .dct-cta–subscribe .dct-cta__content p { color: #ffffff; } .dct-cta–subscribe .dct-cta__btn { background-color: #005a9e; color: #ffffff; } .dct-cta–subscribe .dct-cta__btn:hover, .dct-cta–subscribe .dct-cta__btn:focus, .dct-cta–subscribe .dct-cta__btn:active { background-color: #ffffff; color: #005a9e; }