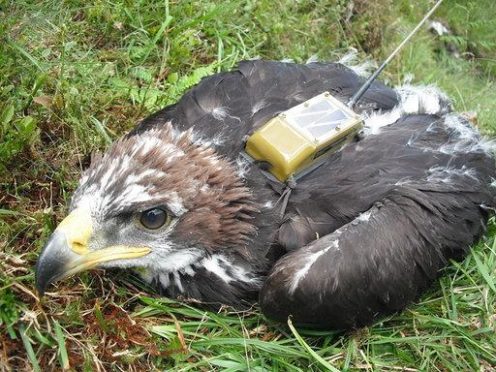 The discovery of a satellite tag removed from a missing golden eagle in Perthshire shows how far criminals will go to cover their tracks, it is claimed.
RSPB Scotland says the discovery sheds new light on the lengths criminals will go to cover up the illegal killing of protected birds of prey.
The bird's tag stopped transmitting on a Perthshire moor in 2016 and was never traced, despite Police and RSPB Scotland searches.
However the tag was found, wrapped in heavy lead sheeting, by a walker and his son by the River Braan near Dunkeld on May 21 – four years after it disappeared, on May 1 2016.
Police Scotland now have the tag as part of ongoing forensic analysis.
RSPB Scotland's Head of Investigations, Ian Thomson said: "As is the case in virtually every raptor persecution investigation, nobody seemed to know anything and, as is the case with every suspicious satellite tagged raptor disappearance on a grouse moor, spurious alternative theories as to what may have happened to the bird and tag were suggested.
"However, now we know the truth. This young eagle was killed illegally.
"The tag was clearly removed from the bird, its antenna was cut off, and the tag was then wrapped in a piece of lead sheeting, presumably because the perpetrator thought this would stop it transmitting."
He added: "This discovery gives unequivocal proof not only of what is happening to these birds, but also the lengths to which the criminals involved in the killing of our raptors will go to dispose of evidence and evade justice."
However, concerns have been raised about the level of proof on which RSPB Scotland has based its claims.
The Scottish Gamekeepers Association argue there is insufficient evidence about how the tag was removed from the bird.
An organisation spokesperson said: "If RSPB's interpretation of this is what has actually happened, which they do not have proof of, then, of course, we would share that concern.
"However, it is one of many possible interpretations and until any forensic process is concluded it would be unwise of us to comment further or add to speculation on who may have covered up a tag or what their interests were in doing so.
"We will await to see what the police can uncover from the evidence."
After fledging from its nest, the young eagle had remained on its parents' territory until November 2014. Over the following 18 months, it explored Scotland's uplands before it moved into Strathbraan and disappeared after a few days.
Duncan Orr-Ewing, a member of the Central Scotland Raptor Study Group and RSPB Scotland's Head of Species and Land Management, said: "The number of satellite tags fitted to raptors, functioning exactly as expected, only to have stopped suddenly on a grouse moor, is an issue of increasing public concern, as evidenced by the Scottish Government commissioning of a review of the fates of satellite-tagged golden eagles, published three years ago.
"It has long been suspected that tags are routinely destroyed by wildlife criminals in a deliberate attempt to conceal evidence.
"There is no other reasonable explanation as to why this tag has ended up in the river where it was found, wrapped in metal, and with the harness and antenna cut.
"For me this incident is doubly distressing as it is a bird that I tagged with a colleague in 2014, and it originates from a nest site in the Loch Lomond and Trossachs National Park where there has been a long history of local community protection from egg collectors."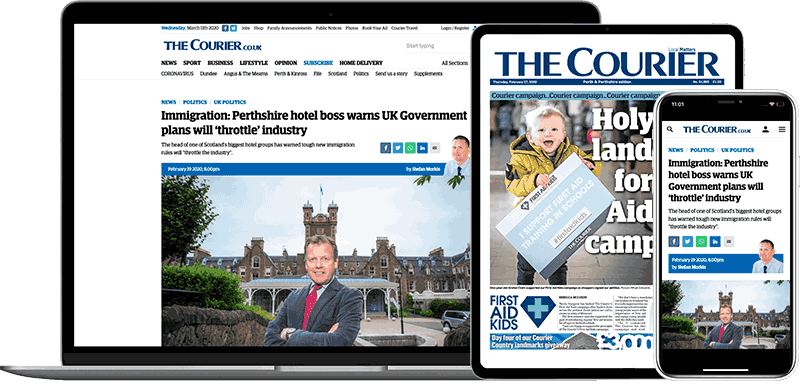 Help support quality local journalism … become a digital subscriber to The Courier
For as little as £5.99 a month you can access all of our content, including Premium articles.
.dct-cta–subscribe { background-color: #143c70; } .dct-cta–subscribe .dct-cta__title { color: #ffffff; } .dct-cta–subscribe .dct-cta__content p { color: #ffffff; } .dct-cta–subscribe .dct-cta__btn { background-color: #005a9e; color: #ffffff; } .dct-cta–subscribe .dct-cta__btn:hover, .dct-cta–subscribe .dct-cta__btn:focus, .dct-cta–subscribe .dct-cta__btn:active { background-color: #ffffff; color: #005a9e; }